Expert warns that it could be a race against the clock as the fast-spreading B117 variant picks up steam in the U.S.
Last week, we updated you on the new fast-spreading U.K. variant of coronavirus and its potential impact on U.S. schools, given apparently higher transmission rates among young people. To recap: Phillip Alvelda, a former NASA & DARPA technologist and CEO of Brainworks, warned that more robust abatement measures and rapid testing would be required to get control of the variant if it began to spread in the U.S.
The graph below shows how rapidly cases rose recently in the U.K., and why experts started to wonder if a new Covid strain could be pushing the numbers up.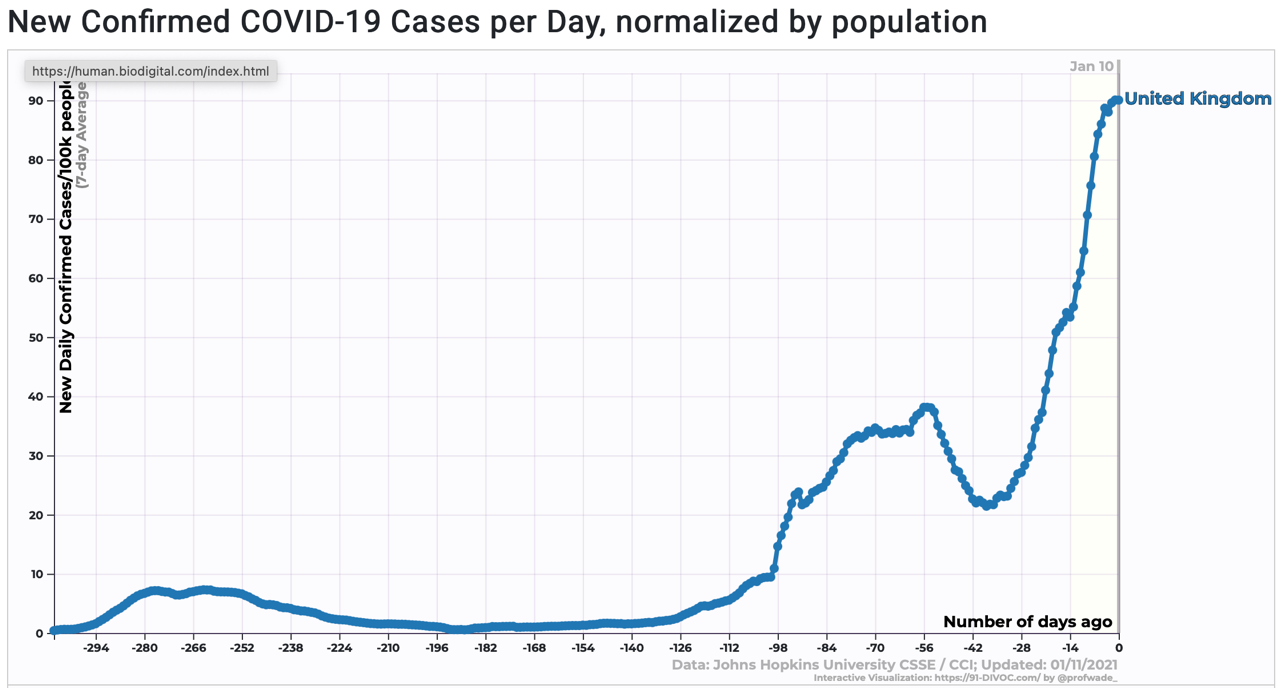 Turns out that fear was justified: The variant known as B117 was identified and linked to a surge of infections, even during a full lockdown in Britain. Alvelda notes that there is now a consensus among scientists that the strain is at least 50%, and possibly as much as 70%, more contagious than older variants. More cases means more fatalities. That's bad enough.
But it gets worse. The U.S. lacks a national program for genetic sequencing, or even much of a national testing program at all, so it's harder for experts here to track new variants. So, Alvelda and a team of researchers have been poring over Google flight data showing direct flights from the U.K. to the U.S. to try to determine where the mutation might pop up. The patterns reveal what Alvelda was afraid of: The U.K. variant, which began to appear in the U.S. two weeks ago, may already be contributing to spikes in case numbers across America.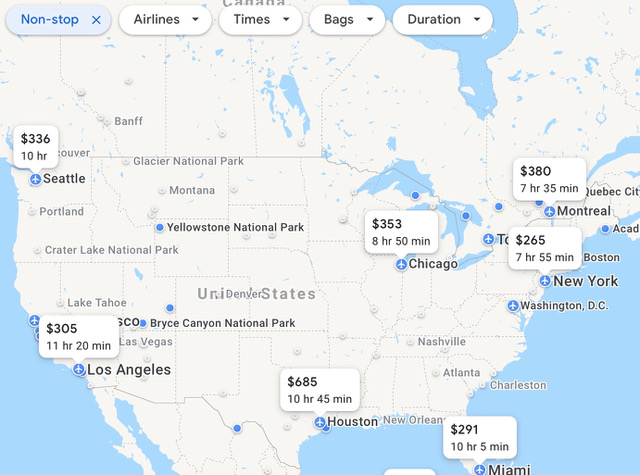 In states that have cities where direct U.K. flights terminate, such as Los Angeles, Houston, Seattle, New York City, Chicago, and Miami, Covid cases are picking up at an alarming rate.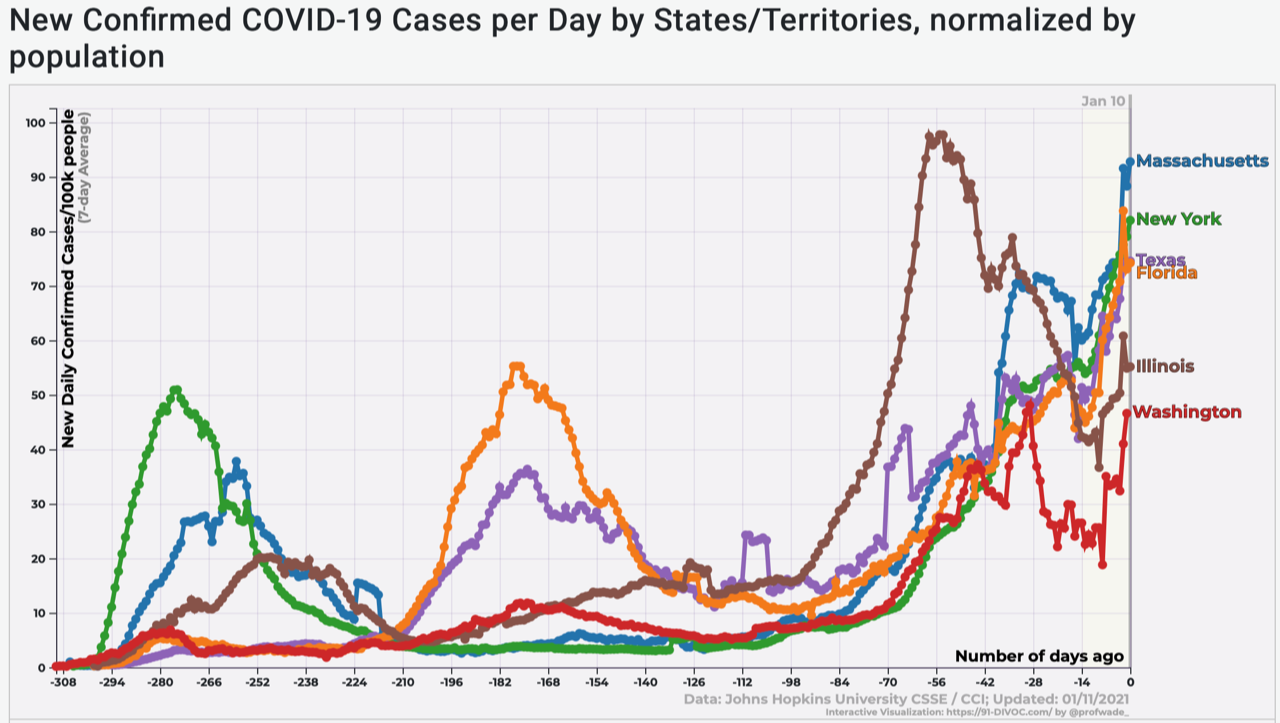 The pattern of rising cases looks eerily similar to what has happened in the U.K., as you can see in this chart comparing case numbers in Ireland and Massachusetts, which are closely connected in terms of travel, tourism, and business. Skyrocketing cases in Ireland were followed, just a week later, by a rapid rise in cases in Massachusetts.
Alvelda notes it's not yet 100% clear that the U.S. spikes are due to the new strain because of the complicating factor of recent holiday gatherings increasing transmission. But Dr. Eric Rosenberg, an infectious disease doctor and director of the clinical microbiology lab at Massachusetts General Hospital, suspects that the strain is already there.
In any case, Alvelda warns that it's time to up our game.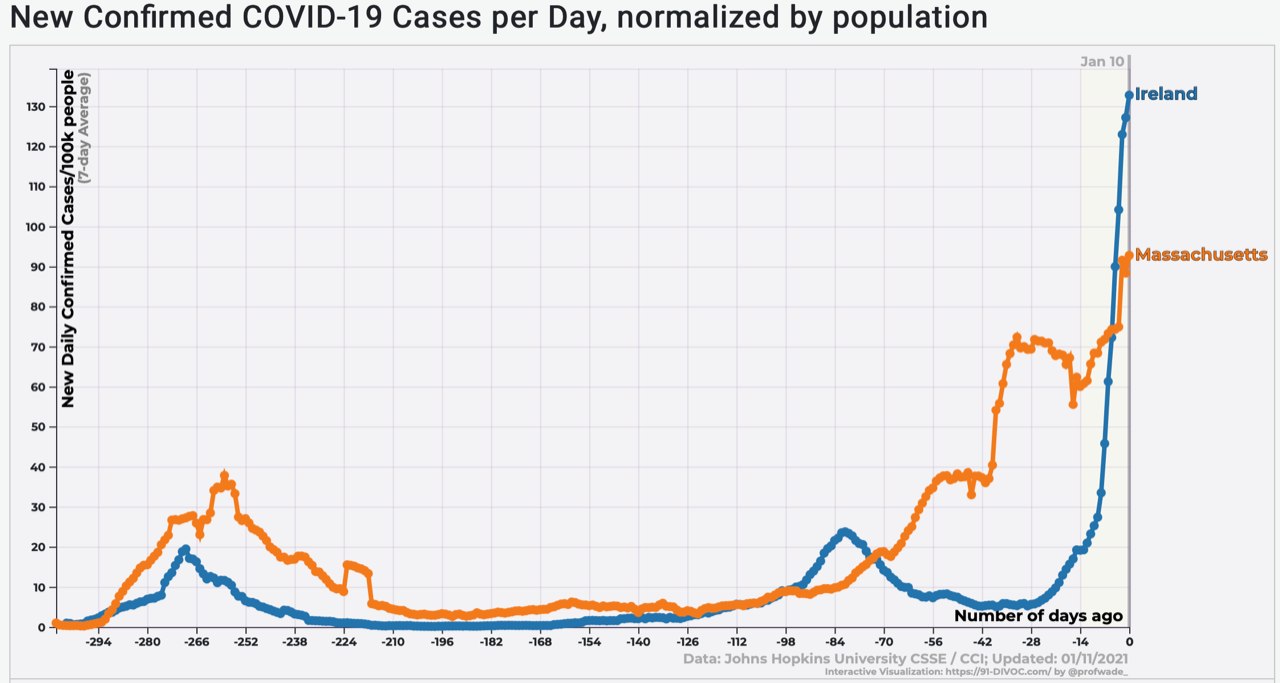 How broadly may the new variant have spread in America? Confirmed cases have already appeared in nine states, including New York, Florida, California, and Connecticut. Alvelda observes that confirmed cases also appearing in states like Minnesota and Indiana, less closely linked to the U.K., suggest that the variant is not being effectively contained.
So, what to do? Alvelda says that if it were up to him, U.S. cities closely connected to the U.K. would be working overtime to improve lockdown performance and testing. They would be looking into the quality of masks people are using (N95 or KN95 should be standard), moving social distancing guidelines beyond six feet indoors, and working to improve HVAC ventilation systems.
Americans don't like the word "lockdown." But Alvelda warns that when you are facing an exponentially growing virus, you can quickly reach a point where, as he and his colleagues have shown, there's nothing else you can do to keep up and if you don't act quickly, you'll have to take even more stringent measures in the future. Most importantly, this new strain of the coronavirus will spread more quickly than those we are already wrestling with, giving us even less time to react before hospital systems are overwhelmed.
One thing is certain: the virus won't be waiting for us to change our mindset.