Young Scholars Initiative (YSI)
We are building a home for a new generation of thinkers—an open environment for thought and inquiry. Our program provides mentorship and resources to further your understanding of the economy.
Join Us
Explore your curiosity in economics in an open and critical community. View details
The Festival for New Economic Thinking aims to bring together those who seek to improve how economics is taught, studied and practiced. View details
Overcoming intellectual divides
We have 21 Working Groups designed to foster a deeper understanding of economics.
The Working Group on Europe's Political Economy aims to bring together young researchers, PhD candidates and practitioners from institutions and think tanks to discuss their research findings and push forward a common research agenda on the political economy of European integration. Read more
Gender studies within the economic theory is a part of a general project to rethink economics in a different way, either as a revised version of neoclassical economics, or as a deep critique to neoclassical economics. Gender diversity is an enriching factor for the development of economic theory and the capacity of understanding and interpreting the current society and reality. The Gender Economics and Social Sciences working group focuses on gender issues in a critical, transnational and interdisciplinary perspective. Read more
Connect with experts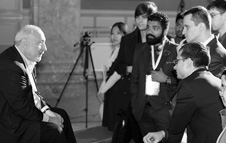 Meet the leaders and thinkers who are changing economics—and working with young scholars like you.
Meet the experts