Young Scholars Initiative (YSI)
We are building a home for a new generation of thinkers—an open environment for thought and inquiry. Our program provides mentorship and resources to further your understanding of the economy.
Join Us
Explore your curiosity in economics in an open and critical community. View details
The Festival for New Economic Thinking aims to bring together those who seek to improve how economics is taught, studied and practiced. View details
Overcoming intellectual divides
We have 21 Working Groups designed to foster a deeper understanding of economics.
The YSI Africa working group focuses on identifying the key economic issues for Africa. The discussion is open to young scholars across the continent and is an entryway to participate in YSI's broader initiatives at a global level. Read more
In the Philosophy of Economics working group we dare to ask the most fundamental questions in order to understand our roles as economists in a bigger picture. What is "the economy"? What is economics? What is the relationship between our models and reality? What should it be? Read more
Connect with experts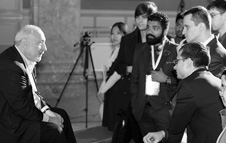 Meet the leaders and thinkers who are changing economics—and working with young scholars like you.
Meet the experts