Young Scholars Initiative (YSI)
We are building a home for a new generation of thinkers—an open environment for thought and inquiry. Our program provides mentorship and resources to further your understanding of the economy.
Join Us
Explore your curiosity in economics in an open and critical community. To join our community, begin by creating a member profile on our new Young Scholars Directory, then join one of our working groups that conforms most closely to your interests. View details
This study group aims to reflect on international economic growth, sustainable development and the evolution of economic thinking around capitalism and enterprise through the analysis of a selected multidisciplinary bibliography. View details
Overcoming intellectual divides
We have 21 Working Groups designed to foster a deeper understanding of economics.
The Sustainability working group explores how economic thinking can contribute to the mitigation of environmental challenges, such as climate change, pollution or limited resources. Read more
Gender studies within the economic theory is a part of a general project to rethink economics in a different way, either as a revised version of neoclassical economics, or as a deep critique to neoclassical economics. Gender diversity is an enriching factor for the development of economic theory and the capacity of understanding and interpreting the current society and reality. The Gender Economics and Social Sciences working group focuses on gender issues in a critical, transnational and interdisciplinary perspective. Read more
Connect with experts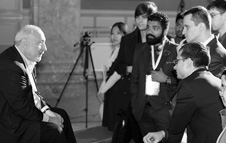 Meet the leaders and thinkers who are changing economics—and working with young scholars like you.
Meet the experts