In partnership with Cambridge University Press

Series Editor: Thomas Ferguson, Institute for New Economic Thinking, New York
The Institute for New Economic Thinking, in collaboration with Cambridge University Press, has a book series edited by INET Director of Research Thomas Ferguson.
The 2008 financial crisis pointed to problems in economic theory that require more than just big data to solve. INET's series in New Economic Thinking exists to ensure that innovative work that advances economics and better integrates it with other social sciences and the study of history and institutions can reach a broad audience in a timely way.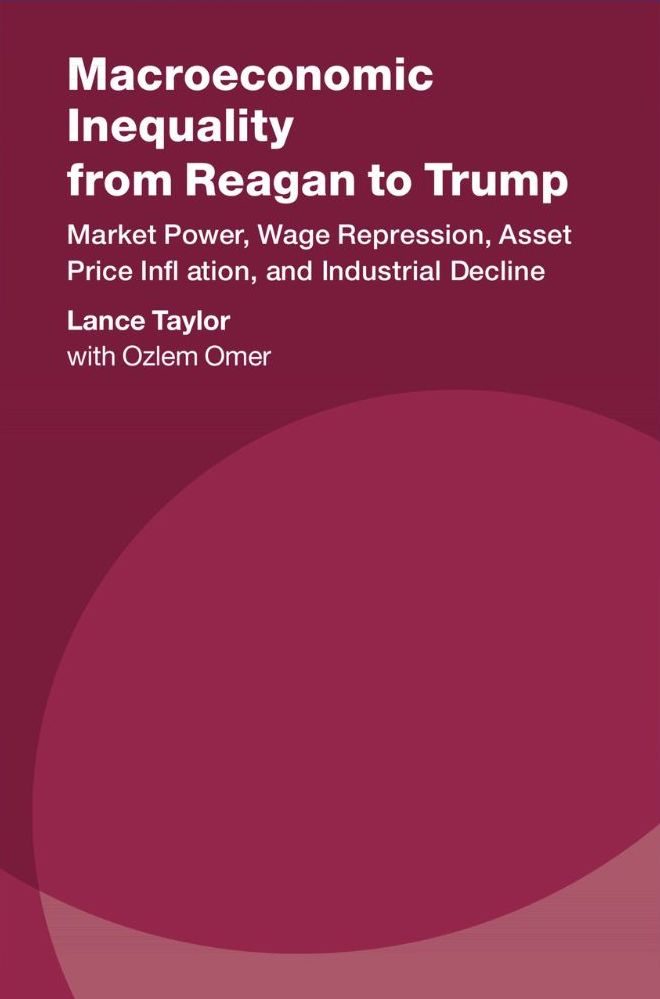 Book
Macroeconomic Inequality from Reagan to Trump
Market Power, Wage Repression, Asset Price Inflation, and Industrial Decline
Author(s): Lance Taylor
ISBN: 9781108796101

Date Published: August 2020

Availability: Available

Format: Paperback
For five decades, rising US income and wealth inequality has been driven by wage repression and production realignments benefitting the top one percent of households. In this inaugural book for Cambridge Studies in New Economic Thinking, Professor Lance Taylor takes an innovative approach to measuring inequality, providing the first and only full integration of distributional and macro level data for the US. While work by Thomas Piketty and colleagues pursues integration from the income side, Professor Taylor uses data of distributions by size of income and wealth combined with the cost and demand sides, flows of funds, and full balance sheet accounting of real capital and financial claims. This blends measures of inequality with national income and product accounts to show the relationship between productivity and wages at the industry sector level. Taylor assesses the scope and nature of various interventions to reduce income and wealth inequalities using his simulation model, disentangling wage growth and productivity while challenging mainstream models.
About the Authors
Lance Taylor, New School for Social Research, New York Lance Taylor is the Arnhold Professor Emeritus of International Cooperation and Development and was Director of the Center for Economic Policy Analysis at the New School for Social Research, New York.
Özlem Ömer is an assistant professor at Haci Bektas Veli University in Turkey. Her research interests include growth and inequality, distributive impacts of economic policies, forces and dynamics of structural change in developed and developing countries, financial crises and information theoretic approaches to modeling political economy. Her work combines theoretical, methodological, historical, structural and policy oriented aspects of macroeconomic issues by employing modern modeling techniques in her research.
America's Dire Inequality Demands a New Conceptual Framework. This Economist Has One
Author interview by Lynn Parramore featuring Lance Taylor
Summary of the Book: "Macroeconomic Inequality from Reagan to Trump", by Lance Taylor
Reviews & Endorsements
This book is a tour de force. Combining deep theoretical insights with thorough empirical work, the authors explain the causes and consequences of major recent episodes in the advanced capitalist world. Over the decades, Taylor has built up a convincing, original, and thoroughly researched theoretical structure of his own. The end results illuminate understanding about the provision of humane and realistic policies. These findings operate as characteristics of this new volume, the first in an important new series. Macroeconomic Inequality from Reagan to Trump is certain to be a jewel in its crown.
- Geoff Harcourt, Jesus College, Cambridge
Taylor's brilliant book on the macroeconomics of inequality in the USA since the mid-1980s is a major contribution. It is the only full integration of distributional and macro level data for the USA. This is Taylor's magnum opus.
- José Gabriel Palma, University of Cambridge
Taylor and Omer's book could not be more timely … the study identifies sustained wage growth relative to productivity growth, undoing the decades of wage repression, as the most effective long-run solution to disparities of wealth and income. This conclusion arises from an impressive wealth of data, meticulously assembled, together with a challenging critique of conventional views of productivity, trade, growth and finance.
- Sheila Dow, University of Stirling
Lance Taylor and Ozlem Omer's melancholy anatomy of inequality fills in many gaps in the burgeoning literature on inequality, grounding its history and analysis in solid empirical evidence. The result is a sobering but indispensable look at what is emerging as the leading economic problem of the twenty-first century.
- Duncan Foley, The New School for Social Research, New York
This provocative book presents an empirically rich, convincing macroeconomic analysis of how and why inequalities in the US economy have increased, and what can be done about them. Lance Taylor convincingly discredits popular myths about this shift, singling out the decay of unions, the weakening of labour's bargaining position and the growth of a 'dual economy' as the deepest drivers of the present distributional mess. This book should be required reading for economists of all persuasions, as well as for policymakers and concerned citizens horrified by today's economic and political malaise.
- Servaas Storm, Delft University of Technology
Lance Taylor's latest book delivers a comprehensive treatment of inequality in the USA since the beginning of the 1970s. Both specialists and the general public will benefit from Taylor's signature knack for intuitive analyses of complex numbers and theories. The book convincingly argues that wage suppression drives much of the observed rise in inequality, and is delivered in convincing fashion. It is a sober reminder that addressing challenges faced today requires profound institutional and social changes.
- Codrina Rada, University of Utah
---
Forthcoming releases
Banking on Bull
by Edward J. Kane