In partnership with Cambridge University Press

Series Editor: Thomas Ferguson, Institute for New Economic Thinking, New York
The Institute for New Economic Thinking, in collaboration with Cambridge University Press, has a book series edited by INET Director of Research Thomas Ferguson.
The 2008 financial crisis pointed to problems in economic theory that require more than just big data to solve. INET's series in New Economic Thinking exists to ensure that innovative work that advances economics and better integrates it with other social sciences and the study of history and institutions can reach a broad audience in a timely way.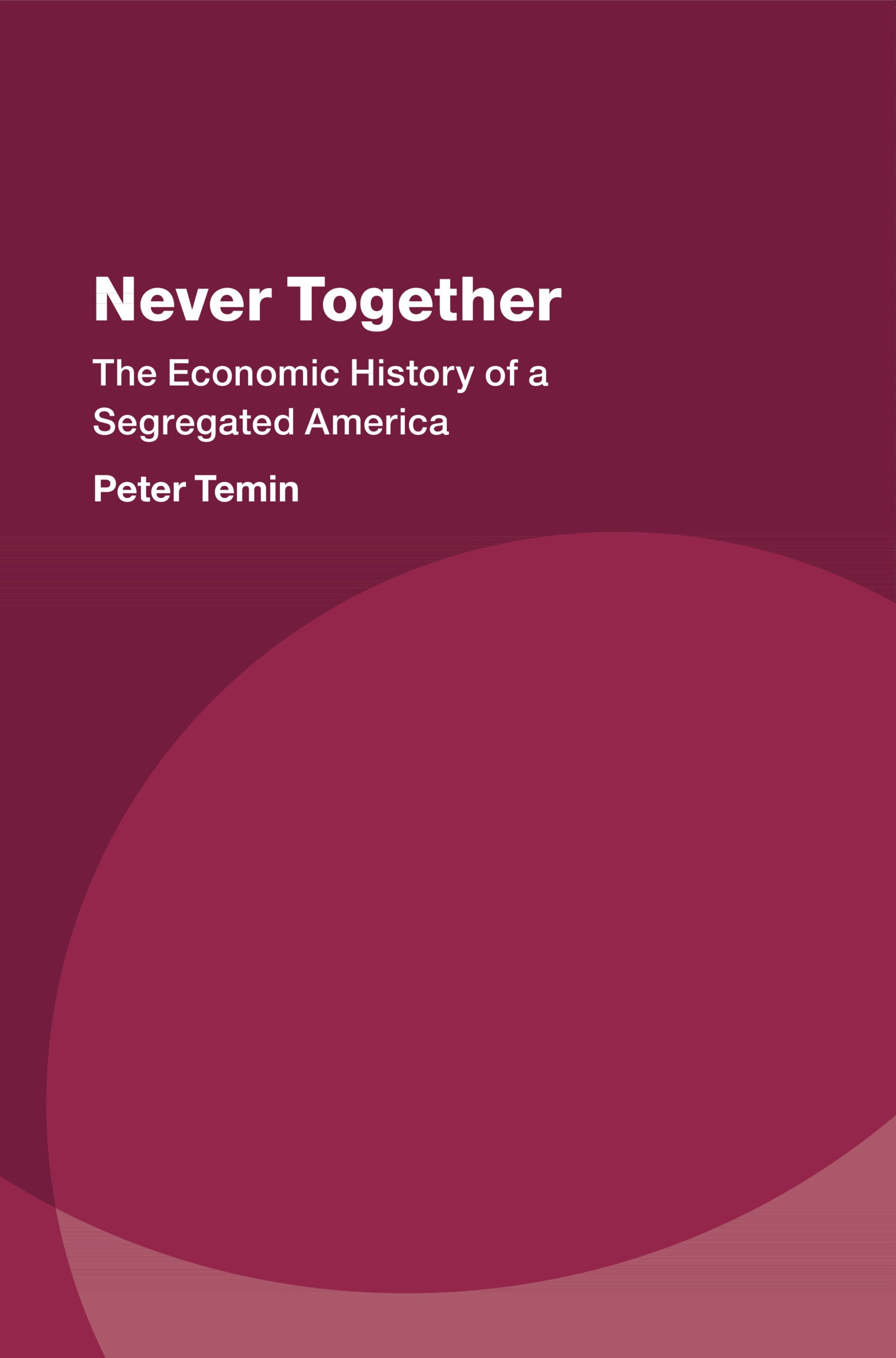 Book
Never Together
The Economic History of a Segregated America
Author(s): Peter Temin
ISBN: 9781316516744

April 2022 (USA)
In November 2020, The New York Times asked fifteen of its columnists to "explain what the past four years have cost America." Not one of the columnists focused on President Trump's racism. This book seeks to redress this imbalance and bring Black Americans' role in our economy to the forefront.
While all humans were created equal, economic history in the United States tells a different story. Reconstruction lasted for only a decade, and Jim Crow laws replaced it. The Civil Rights Movement lasted through the 1960s, yet decayed under President Nixon. The United States has been declining in the Social Product Index, where it now is the lowest of the G7 and 26th in the world.
For health and happiness, Temin argues that we need lasting integration efforts that allow Black Americans equal opportunity. This book convincingly integrates Black and white activities into an inclusive economic history of America.
About the Author
Peter Temin is the Elisha Gray II Professor Emeritus of Economics at the Massachusetts Institute of Technology (MIT). He received his B.A. from Swarthmore College in 1959 and his Ph.D. in Economics from MIT in 1964. Professor Temin was a Junior Fellow of the Society of Fellows at Harvard University, 1962-65; the Pitt Professor of American History and Institutions at Cambridge University, 1985-86; Head of the Economics Department at MIT, 1990-93; and President of the Economic History Association, 1995-96. Professor Temin's most recent books are The Roman Market Economy (Princeton University Press, 2013), Prometheus Shackled: Goldsmith Banks and England's Financial Revolution after 1700 (Oxford University Press, 2013, with Hans-Joachim Voth), The Leaderless Economy: Why the World Economic System Fell Apart and How to Fix It (Princeton University Press, 2013, with David Vines) Keynes: Useful Economics for the World Economy (MIT Press, 2014, with David Vines), and The Vanishing Middle Class: Prejudice and Power in a Dual Economy (MIT Press, 2017).

Reviews & Endorsements
"Never Together is utterly necessary right now – comprehensive yet clear-eyed, general yet precise. Temin sees race, and the differences race makes, without being blinded by race or heedless of discrimination's consequences over the course of two centuries. This is the economic history needed in our new gilded age."
Nell Irvin Painter, Princeton, author of The History of White People
"Never Together is a true innovation in historical writing. Peter Temin retells the story of American economic history, with African-Americans fully integrated into the tale. Highlighting the race issue accentuates the striking parallels between the Gilded Age and our own times. The book is a tour de force."
Gavin Wright, Stanford University
Many tellings of American economic history do not focus on the critical contributions Black Americans have made to our nation. In Never Together, Temin remedies this problem and gives us a rich, inclusive economic history from the American Revolution to the Civil War through the current day. The upshot of this careful historical examination is that progress toward racial equity is far from steady, with important triumphs often stymied by subsequent challenges - an important lesson for everyone seeking to achieve a fairer and more equitable society.'
Raj Chetty, Harvard University
"We live beneath the long shadow of slavery. How could one group have lower income and wealth than the other? How could their housing and schooling still be so separate? Temin takes us, step by step, through our history to fathom these differences."
Claudia Goldin, Henry Lee Professor of Economics, Harvard University
"In Never Together, pioneering new economic historian Peter Temin offers a sweeping narrative of economic repression of Black America. In this timely volume, Temin starts with the imposition on African Americans of the status as a pariah class in the colonial period, and traces this troubling history through US macro-economic booms and busts into the present day."
Paul Rhode, University of Michigan
---