Companies like Apple and Google make billions for rich investors by buying back their own stock—at the expense of workers, the public, and the planet.
Economist Bill Lazonick says it's time to ban the stock buyback scam.
---
William Lazonick is co-author of the new book Predatory Value Extraction: How the Looting of the Business Corporation Became the US Norm and How Sustainable Prosperity Can Be Restored (Oxford University Press, 2019).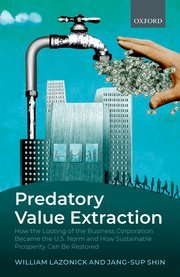 The book provides a critical analysis of corporate governance practices in the United States and their contribution to current economic challenges such as employment instability, income inequity, and secular stagnation. Lazonick and his co-author Jang-Sup Shin present a theory of innovative enterprise to explain the evolving relationship between value creation and value extraction. Predatory Value Extraction sets out a new agenda for combatting predatory value extraction and restoring sustainable prosperity.