Young Scholars Initiative (YSI)
We are building a home for a new generation of thinkers—an open environment for thought and inquiry. Our program provides mentorship and resources to further your understanding of the economy.
Join Us
New approaches are being developed, but efforts are fragmented and need to be brought together if we hope to piece together a paradigm. View details
The Finance and Social Justice conference to take place at the University of Bayreuth will discuss questions at the intersection of finance and moral and political philosophy. View details
Overcoming intellectual divides
We have 21 Working Groups designed to foster a deeper understanding of economics.
The YSI working group questions the appropriateness and relevance of the assumptions made in modern micro and rational choice theory and discusses how to move beyond them. Read more
Connect with experts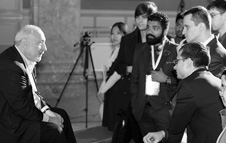 Meet the leaders and thinkers who are changing economics—and working with young scholars like you. Meet the experts